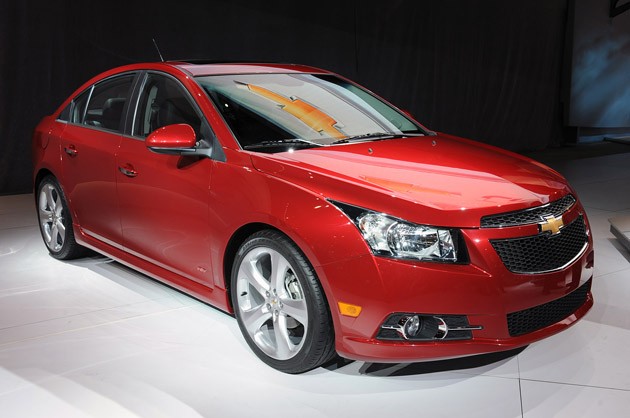 Front window regulation
Central key
Fuel consumption (city) 9-11 liters/100 km.
Fuel consumption (highway) 7-8 liters/100 km
Interior: TEXTILE
ABS ESP TCS ASR TRC DSC VDC ESC
Driver and passenger airbag
Board computer
Tinted windows
Power steering
Power windows
Climate control
Reach adjustable steering column
Height adjustable steering column
Audio system
Incaldayre oglinday laterale
Dispodaytiv anti-furt
Multifunctional steering wheel
Antitheft alarm
Oglinday laterale reglabile electric
The Chevrolet Cruze — is a compact car produced by the Chevrolet division of the American manufacturer General Motors (GM) since 2008. The nameplate has been used previously in Japan, for a version of a subcompact hatchback car produced under a joint venture with Suzuki between 2001 and 2008 and based on the Suzuki Ignis.
Since 2008, the Cruze nameplate has designated a globally developed, designed, and manufactured four-door compact sedan—complemented by a five-door hatchback body variant from 2011, and a station wagon in 2012. Badged as the Holden Cruze in Australasia and the Daewoo Lacetti Premiere (from 2008 to 2011) in South Korea, the new generation model does not serve as a replacement for its Suzuki-derived predecessor. Instead, it replaces two other compact models: the Daewoo Lacetti sold internationally under various titles, and the North American-specific Chevrolet Cobalt.
Engine capacity: 1.8
Fuel: petrol
Air conditioning: yes
Gearbox: automat
Colour: red
Deposit: 150 €
PRICE for day:
1-3 days: 50 €
4-7 days: 45 €
8-14 days: 40 €
15-20 days: 35 €
21 days: 30 €