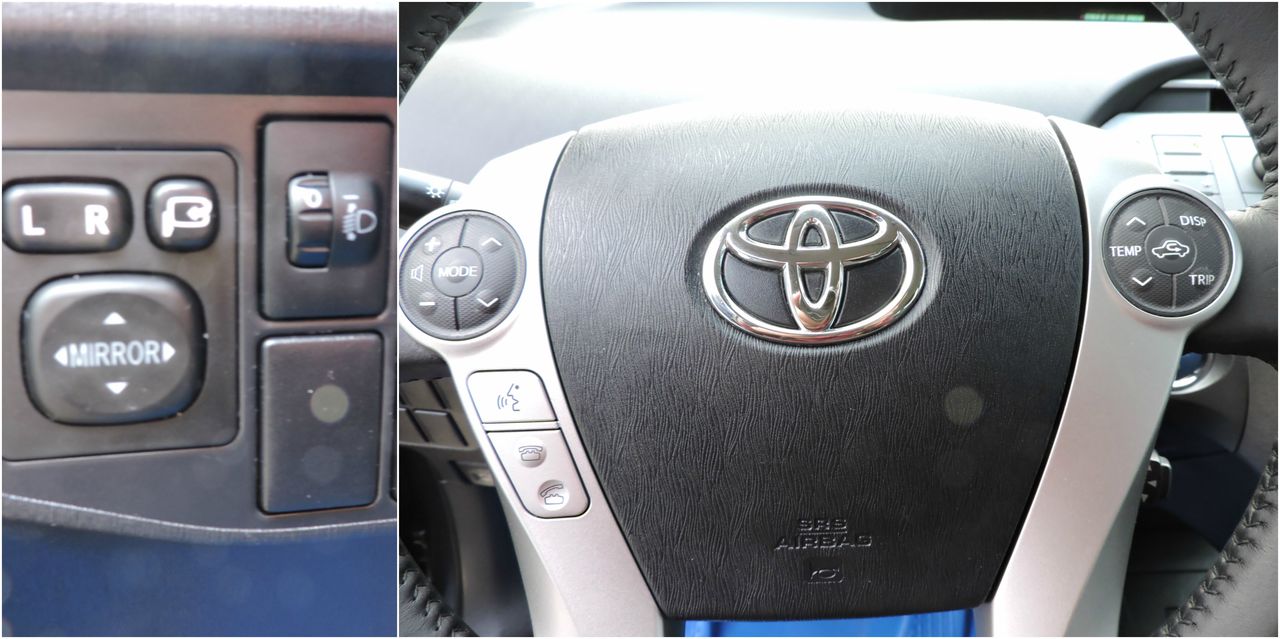 Parking sensors
Cruise control
Audio system
Heated side mirrors
Central key
Interior: LEATHER
Board computer
Tinted windows
Power steering
Power windows
Climate control
Height adjustable steering column
Reach adjustable steering column
Power side mirrors
Anti-lock Brake System (ABS)
Anti-slip Regulation (TCS, ASR, TRC)
Electronic Stability Control (ESP, DSC, VDC, ESC)
Lateral airbag
Immobilizer
Xenon headlights
Fog light
Multifunctional steering wheel
Antitheft alarm
Rain sensor
Driver airbag
Passenger airbag
The Toyota Prius (/ˈpriːəs/) is a full hybrid electric automobile developed by Toyota and manufactured by the company since 1997. Initially offered as a 4-door sedan, it has been produced only as a 5-door liftback from 2003 to 2015, and then a 5-door fastback since 2016.
The United States Environmental Protection Agency (EPA) and California Air Resources Board (CARB) rate the Prius as among the cleanest vehicles sold in the United States based on smog-forming emissions. The 2018 model year Prius Eco ranks as the second most fuel efficient gasoline-powered car available in the US without plug-in capability, following the Hyundai Ioniq Blue.
The Prius first went on sale in Japan and other countries in 1997, and was available at all four Toyota Japan dealerships, making it the first mass-produced hybrid vehicle. It was subsequently introduced worldwide in 2000. The Prius is sold in over 90 markets, with Japan and the United States being its largest markets. Global cumulative Prius liftback sales reached the milestone 1 million vehicle mark in May 2008, 2 million in September 2010, and passed the 3 million mark in June 2013. Cumulative sales of one million were achieved in the U.S. by early April 2011,[9] and Japan reached the 1 million mark in August 2011. As of January 2017, the Prius liftback is the world's top selling hybrid car with almost 4 million units sold.
In 2011, Toyota expanded the Prius family to include the Prius v, an extended hatchback, and the Prius c, a subcompact hatchback. The production version of the Prius plug-in hybrid was released in 2012. The second generation of the plug-in variant, the Prius Prime, was released in the U.S. in November 2016. The Prime achieved the highest miles per gallon equivalent (MPGe) rating in all-electric mode of any vehicle rated by EPA with an internal combustion engine. Global sales of the Prius c variant passed the one million mark during the first half of 2015. The Prius family totaled global cumulative sales of 6.1 million units in January 2017, representing 61% of the 10 million hybrids sold worldwide by Toyota since 1997
Engine capacity: 1.8
Fuel: hibrid
Air conditioning: yes
Gearbox: automat
Colour: blue
Deposit: 100 €
PRICE for day:
1-2 days: 34 €
3-6 days: 30 €
7-11 days: 25 €
11-30 days: 22 €
31+ days: 19 €