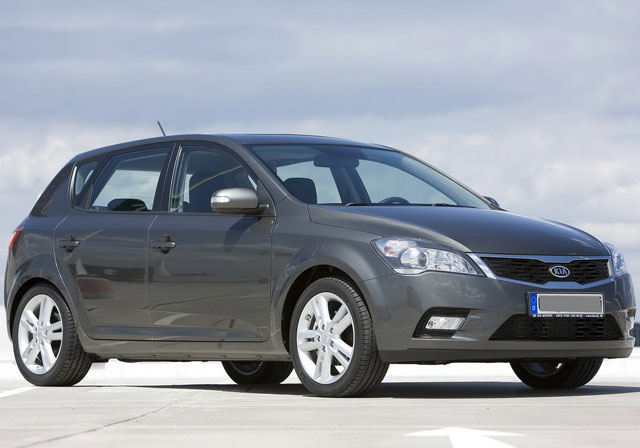 Power steering
Fuel consumption (city) 7,5 liters/100 km
Fuel consumption (highway) 6 liters/100 km
Height adjustable steering column
Front window regulation
Central key
5 passenger seats
Driver and passenger airbag
Audio system
Interior: TEXTILE
Tinted windows
Air conditioning
Front power windows
Anti-lock Brake System (ABS)
Anti-slip Regulation (TCS, ASR, TRC)
The Kia Cee'd is a compact car produced by the South Korean manufacturer Kia since 2006, exclusively for the European market. It was released in December 2006, superseding the Kia Spectra and is available as a five-door hatchback, a three-door hatchback (Pro cee'd) and a five-door estate (Cee'd SW), with a choice of four engines (two petrol and two diesel), five trim levels (1, 2, 3, 4 and 4 Tech – previously S, GS, LS and SR) and either manual or automatic transmissions.
The Cee'd is Kia's first European-designed and built car and Kia intends to sell and manufacture the car exclusively in Europe. To mark the occasion, Kia took the initials of the European Economic Community, EEC or CEE in some places and added ED for European Design. Realising that "CEEED" had too many 'E's, they replaced the last 'E' with an apostrophe, with "Cee'd" being the end result.
Engine capacity: 1.4
Fuel: petrol
Air conditioning: yes
Gearbox: manual
Colour: silver
Deposit: 50 €
PRICE for day:
1-2 days: 26 €
3-6 days: 20 €
7-11 days: 18 €
12-30 days: 15 €
31+ days: 12 €