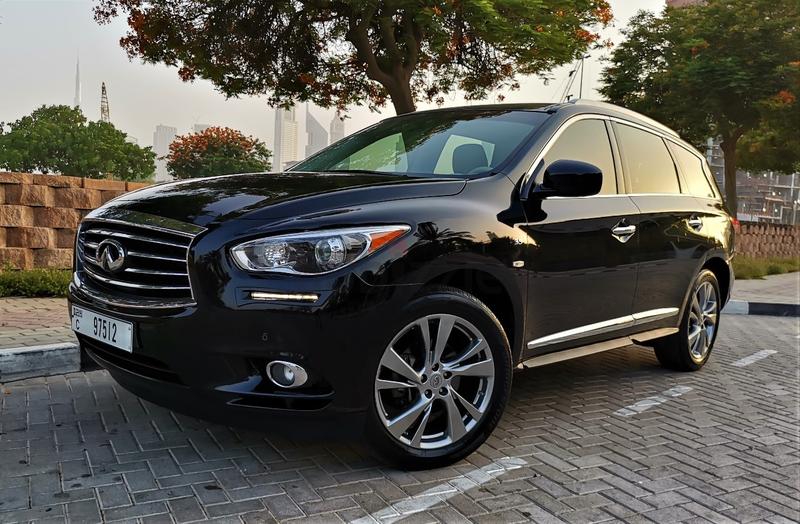 Parking sensors
Cruise control
qx60o system
Heated side mirrors
Central key
Interior: LEATHER
Board computer
Tinted windows
Power steering
Power windows
Climate control
Height adjustable steering column
Reach adjustable steering column
Power side mirrors
Anti-lock Brake System (ABS)
Anti-slip Regulation (TCS, ASR, TRC)
Electronic Stability Control (ESP, DSC, VDC, ESC)
Lateral airbag
Immobilizer
Xenon headlights
Fog light
Multifunctional steering wheel
Antitheft alarm
Rain sensor
Driver airbag
Passenger airbag
The Infiniti QX60body code L50 (formerly called the Infiniti JX until 2013) is a seven-passenger Mid-size luxury crossover SUV produced by the Infiniti division of Japanese automaker Nissan. It is underpinned by an elongated Nissan Murano platform.[4]
In keeping with Infiniti's naming scheme for 2014, in which cars begin with Q and SUV's begin with QX, the JX was renamed "QX60." While the number previously denoted engine displacement (for example, 35=3.5L engine), the new number, 60, is largely to do with its place in the product lineup, with larger numbers usually corresponding to more expensive vehicles.[5]
Jean-Philippe Roux said that the QX60 had previously been under consideration for Australia, but the numbers for right-hand-drive re-engineering and local homologation did not add up. This results that the Infiniti QX60 won't be sold in RHD markets like Japan, Malaysia, India, Singapore, Hong Kong, South Africa, United Kingdom, Ireland, New Zealand, Australia, etc. But the Nissan Pathfinder will be available in the RHD markets.
Engine capacity: 2.5
Fuel: hibrid
Air conditioning: yes
Gearbox: automat
Colour: black
Deposit: 200 €
PRICE for day:
1-4 days: 80 €
5-10 days: 75 €
11-15 days: 70 €
16-30 days: 65 €