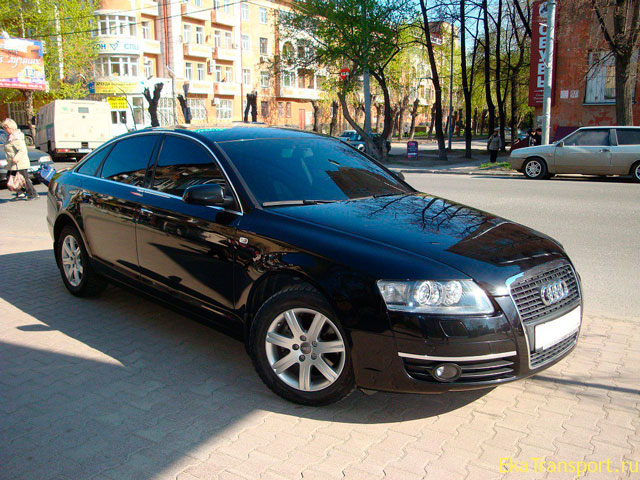 Parking sensors
Cruise control
Audio system
Heated side mirrors
Central key
Interior: LEATHER
Board computer
Tinted windows
Power steering
Power windows
Climate control
Height adjustable steering column
Reach adjustable steering column
Power side mirrors
Anti-lock Brake System (ABS)
Anti-slip Regulation (TCS, ASR, TRC)
Electronic Stability Control (ESP, DSC, VDC, ESC)
Lateral airbag
Immobilizer
Xenon headlights
Fog light
Multifunctional steering wheel
Antitheft alarm
Rain sensor
Driver airbag
Passenger airbag
The Audi A6is an executive car made by the German automaker Audi AG, now in its fourth generation. As the successor to the Audi 100, the A6 is manufactured in Neckarsulm, Germany – and is available in saloon and wagon configurations, the latter marketed by Audi as the Avant.
All generations of the A6 have offered either front-wheel drive or Torsen-based four-wheel drive – marketed by Audi as their quattro system. Second- and third- generation A6 models have shared their platform with the company's Allroad models.
Engine capacity: 2.4
Fuel: petrol
Air conditioning: yes
Gearbox: automat
Colour: black
Deposit: 150 €
PRICE for day:
1-3 days: 55 €
4-7 days: 50 €
8-14 days: 45 €
15-20 days: 40 €
21+ days: 35 €
31+ days: 30 €